Can you break up without experiencing trauma
A world falls apart - when parents split up
The developmental psychologist Harald Werneck still remembers the twelve-year-old who hadn't eaten the school sandwich made by his father. As a result, the boy explained to himself, Dad got so angry that he got divorced and moved out.
Children have their own perspectives when parents separate. They draw conclusions that may seem absurd to the adult mind. However, such conclusions are deeply imprinted on children.
The fact is: the children are often forgotten in the heat of the battle for separation. That is the observation of the psychologists who have their say in this article. But it is also the experience of the separated children themselves whose stories appear in this text.
What can parents who have decided that a separation is inevitable do for their children? And what are the things you shouldn't be doing - no matter how angry, sad, and hurt you may be?
More on this: Controversy in a partnership: Who fights, loses
Separation has to be
"It was actually a pretty normal morning," says Corinna. Until the mother asked the then nine-year-old into the living room and announced that the father would move out. And already today. What remained was a confused and scared girl who no longer understood the world.
Isn't a breakup always bad for children? "No," says psychologist and family therapist Beatrice Wypych. "If the parents argued a lot during the relationship, breaking up can help relax."
Constantly fighting parents not only poisoned the atmosphere at home, they are also so busy with themselves that they do not even notice the children, says Wypych. If the relationship ends and with it the eternal conflict, the offspring can come back into focus.
However, too little is spoken to many children. They sense the tension and hostility between their parents but don't understand it. "If there is no communication with the children, they remain alone with their feelings and try to deduce things," says family therapist Wypych.
More on this: Psychosomatics: When the soul has a stomachache
You are not to blame!
Anica says that her parents argued a lot before they split up. "My mom was always sad and as a child you think it's your fault," says the 28-year-old.
For the developmental psychologist Harald Werneck, this childlike assumption is no surprise. "Especially in preschool age children think very self-centered. They believe that they have more or less contributed to everything that happens in the world."
Many parents simply forget to tell the children that they are not to blame for the failure of the relationship, says Werneck.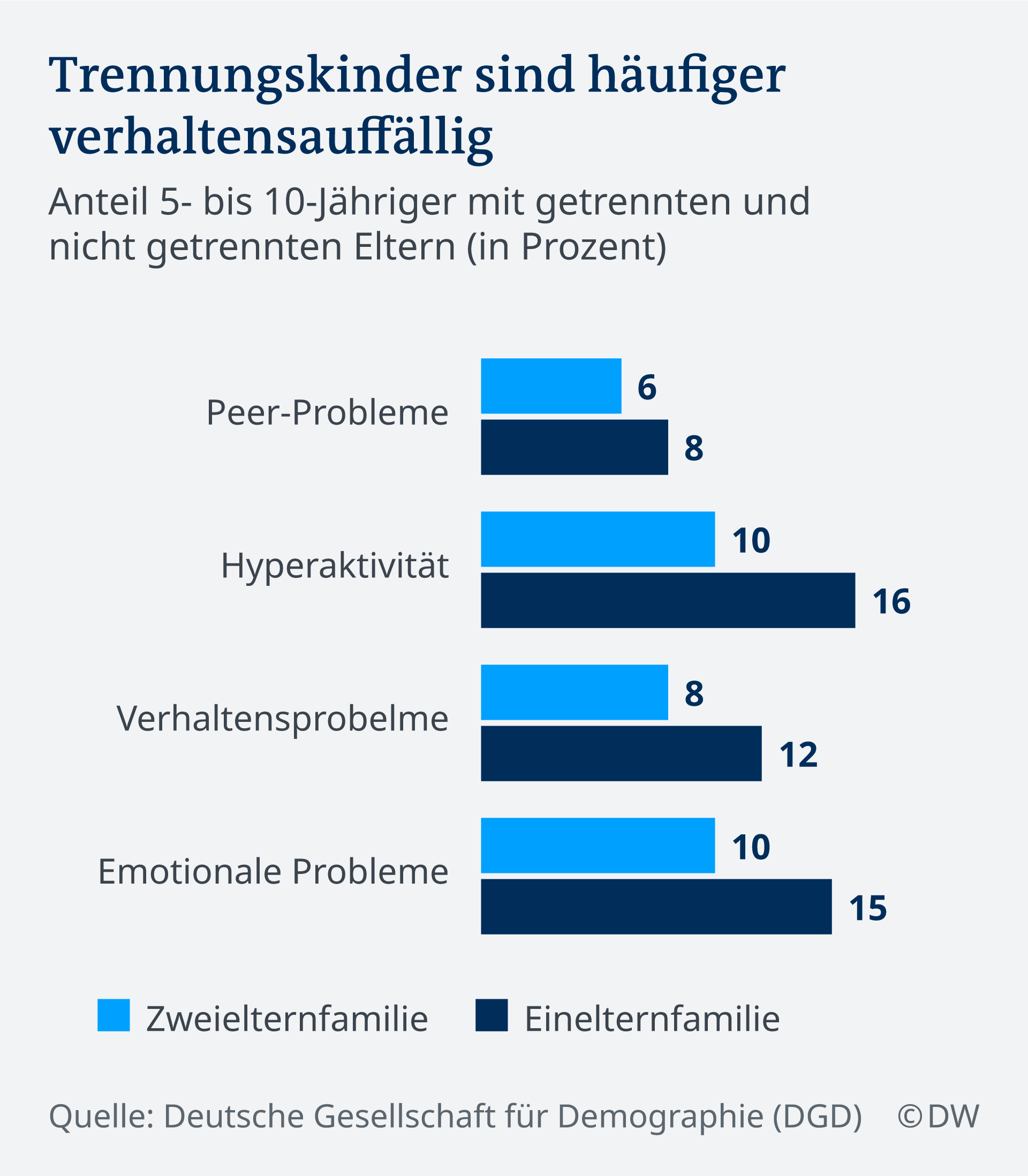 Corinna never blamed herself for the separation of her parents, but it was expected that she would position herself. After all, her father had left the mother.
"My mother expected us to be angry with our father. That was my mother's biggest mistake. She made her problems with my father ours," says Corinna.
Although the breakup marks the end of the adult couple relationship, it does not mean the end of anger, sadness and disappointment. And above all: the separation is not the end of parenthood.
Emotional orphans
"Children whose parents are only arrested in an argument lose both parents in the end. They are like emotional orphans," says Wypych, who also works as a forensic psychologist.
The mother speaks badly of the father, the father badly of the mother. The children stand in between and are torn apart. A disturbed parent-child relationship is the natural consequence.
Vivian had to break off contact with her father because she could no longer bear his gossip about her mother, his ex-wife.
Anyone who blaspheme about the ex-partner in front of the child does not consider that every bad word about mom or dad also affects the child. "So part of the child is constantly being badly done," explains Wypych. Therefore, the consequences for the child's self-worth can be massive.
More on this: No life without love
"To be parents" means "to remain parents"
Hostility between parents harms children. Point. No matter how justified the adults may think their small acts of revenge, aggression or gossip about their ex-partner are, it is cruel for the children. This is confirmed by everyone who has shared their personal experiences for this article.
"The decisive factor is whether the parents manage to separate the couple level from the parent level," says Wypych. It is an act of strength that often seems impossible. But still there should be no way around it.
The therapist therefore recommends using separation counseling. Many nonprofits offer this. It is important to continue to convey to the children that they feel safe and can come to their parents with anything.
"There are children who are afraid of telling one parent something about everyday life with the other," says Wypych from experience.
If it was especially nice with Papa, it could make Mama very sad. When dad finds out what mom allowed me to do, he gets angry and there is another argument.
"Parents have to pass this test," says Wypych. Only then can the child feel really safe.
For children, safety and stability are the most important things - especially when the parents split up
Talk to me
Anica's father loved telling his children stories of one true love. The fairy tale bubble burst when he cheated again and again and the parents finally separated.
"I would have liked to have included us children earlier and not served up these fairy tales," says Anica.
For the developmental psychologist Werneck, "child-friendly communication about the conflicts" is a must for parents who split up. Above all, in order to completely clarify the already mentioned question of guilt.
More on this: Post-traumatic growth: When the trauma makes you stronger
Parents and friends
For all separated parents who have read this far and now breathe a sigh of relief because despite the separation they feel friendly and have overcome all conflicts: this is not always easy for children either.
"As adults and especially as psychologists, we would of course describe that as the better starting point," says Werneck. "The children ask themselves, however, why did my parents split up in the first place?"
Children whose screaming parents throw in the towel and go their separate ways experience an improvement in everyday life. Children whose parents do not have an obvious problem for them and still pull apart see this primarily as a great loss.
It is never too late
So are the children of separation doomed to be unhappy? "No," reassured Beatrice Wypych. "I can always recommend the book 'It's Never Too Late to Have a Happy Childhood'."
As an adult, it is about dealing with the things that we experienced as children and classifying them.
One possibility is to feel exclusively as a victim of incompetent parents, says Wypych. Or to ask the question: What skills have I acquired through the difficult experiences that help me to live a fulfilled life despite everything?
Psychologists agree that the negative or positive interpretation of the life story is decisive for present happiness. "That sounds a lot simpler than it is, of course," admits Wypych.
So a breakup doesn't have to be an endless disaster for children. When the parents occasionally see the world through their children's eyes and manage to remain parents.
Love phrases explained scientifically

The way to a man's heart goes through his stomach

People who are newly in love produce an increased amount of the hormone phenylethylamine, which curbs the appetite. When eating together, the "cuddle or relationship hormone" oxytocin is released, which also inhibits appetite. The situation is different in longer relationships: happy couples weigh more on average than singles. This is also due to the decreasing pressure of competition in happy partnerships.

Love phrases explained scientifically

Butterflies in the stomach

During the fall in love phase, the body is also regulated by the sex hormones testosterone and estrogen. These hormones are mainly released under the influence of stress and lead to a restless gastrointestinal tract. The release of the stress hormone adrenaline when looking at the other person, in combination with the happiness hormones, leads to tingling in the stomach.

Love phrases explained scientifically

To be able to smell good

Molecules on the cell surfaces decide on friend or foe when the immune system is recognized and then create the appropriate fragrance components. The body odor reaches the brain via the olfactory receptors, which then decides: fits or does not fit. Too much diversity can lead to autoaggressive T cells that attack the body's own tissue and trigger autoimmune diseases.

Love phrases explained scientifically

Love is blind

Dopamine is a messenger substance that creates the feeling of being in love in the brain and hides any mistakes made by the beloved. The released endorphins convey feelings of happiness and satisfaction. If the cuddle hormone oxytocin is also activated by physical contact, a permanent bond is created that extends beyond the six weeks of being in love.

Love phrases explained scientifically

The chemistry is right there

When it comes to love, the motto "the stranger the better" applies. It is about immune genes that play a role in the defense against pathogens. The more different the gene pool of mother and father is, the better the offspring is prepared for as many pathogens as possible.

Love phrases explained scientifically

Finding someone cute

Kissing, sucking and biting should take up cannibalistic motifs in a playful and playful way. This can also be seen in the idioms: We find someone "sweet", "delicious" or "crunchy", we like them to "eat" them. For many, sweets have also had a rewarding effect since early childhood. Accordingly, the term "sweet" has a positive connotation in other subject areas as well.

Love phrases explained scientifically

People of the same kind stick together

It has been shown that partners were very often similar, especially in long-term relationships. Sociologically speaking, the concept of "homogamy", that partners are selected according to similar criteria so that the same conditions (descent, age, level of education, social status, financial situation, hobbies, political inclination, religion) are brought into the respective relationship.

Love phrases explained scientifically

opposites attract

Men and women also differ in their choice of partner. Men pay more attention to their appearance. Women are more likely to look for status and intelligence. If different opinions and experiences come together, it can lead to more balanced perspectives and smarter actions. Often, opposing personalities go well with each other, for example like being guided and like being guided.

Love phrases explained scientifically

Share everything with each other

Above all, sexual partners must be careful not to inadvertently share sexually transmitted diseases or other infections with the new partner. It is still unclear to what extent partners also divide the microbiome - i.e. the sum of all microorganisms - on the skin over time. In neurodermatitis patients, for example, the partner microbes could promote a corresponding skin rash.

Love phrases explained scientifically

React allergically to each other

If it doesn't fit at all, it could be due to a fragrance allergy. Because mostly we do not react allergic to one person, but to something that the other is wearing. These could be allergens from other places, or perfumes, creams or soaps that contain eugenol or lime. Especially in the case of allergies, the psyche also has a positive or negative effect on the immune system.

Author: Alexander Freund