Do you prefer Aerosmith or Led Zeppelin
Lamb Of God & Mark Morton: Groove Metal Strikes Again
by Matthias Mineur,
(Image: Travis Shinn)
A band of superlatives: their albums sell like sliced ​​bread, their worldwide tours are absolute crowd pullers, and between 2006 and 2015 alone Lamb Of God was nominated five times for a Grammy. Not a bad result for a group whose idiosyncratic mixture of Death Metal, Thrash, Hardcore and progressive set pieces is characterized above all by merciless aggressiveness, a multitude of tough rhythms and the furious growls of their front man Randy Blythe.
The guitarists Mark Morton and Willie Adler provided the ideas and main composers of the American formation. Their closely interlocked playing style gives the songs sharpness, contour and versatility. Morton is also a founding member and has not only continuously developed the band's stylistic directives since 1994, but also used his little free time to play as a guest artist for GWAR or Devildriver, for example, and to produce two EPs with different singers under his own name.
On the occasion of the new Lamb Of God album, which was released in mid-June 2020, we spoke to the 47-year-old and had important cornerstones of his current sound explained to us.
INTERVIEW
MARK MORTON
Mark, in view of the fantastic guitar work on your current album, one has the impression, as an outsider, that both your taste and your style have noticeably developed.
Of course, a musician's tastes and technical skills change all by themselves over time. But playing guitar has always been the most natural thing in the world for me, comparable to learning a language or acquiring one's own way of expression, which, as is well known, is also subject to many changes between the ages of 16 and 60. In my case, such an evolution also applies to my game. However, at least in the past five years, I have not been able to pin this down to any specific example, it is rather the smooth transition from one level to the next.
In contrast, my compositional skills have improved by leaps and bounds, I think. If you listen to the material that I wrote for the last three Lamb Of God albums or for my solo activities, you notice several significant changes. In the meantime I am no longer exclusively focused on shredding or on acrobatic ways of playing, but rather concentrate more on ensuring that everything is in flux and that the listener can find emotional access to the songs. In this respect, I could answer your question more concretely than I would have thought at first: My playing tends to change gradually and over a longer period of time, but my focus on good songs has been more pronounced for a few years now than ever before.
Do you benefit from a hereditary predisposition or a profound musical education in this regard?
Yes and no. I grew up in a very musical household, not because my parents were musicians themselves, but because they loved music in general. I am now 47 and accordingly grew up as a child in the seventies. My mother comes from Frankfurt, so I have a great family background in Germany. The first cassette that my mum bought me in Frankfurt back then was AC / DC 'Highway To Hell'. At the time I was just seven, my older brother was just under 14. We listened to everything that was trending back then and at my parents' home, albums from Aerosmith, AC / DC, Led Zeppelin, Kiss, Lynyrd Skynyrd were playing. In this way, we were constantly surrounded by music, so it was almost logical that I wanted to make music myself. I got my first own guitar in 1985, when I was 12 or 13.
In your youth, were you more of the Les Paul or Strat type, in other words: rather humbucker or single coil?
My first great guitar hero was Eddie van Halen. Back then, hybrid guitars, such as those offered by Kramer or Charvel in particular, were very fashionable, with a slim Strat body and fat-sounding humbucking pickups. My first guitar was such a hybrid, so I'm more of a typical humbucker player. I love Les Pauls, but I also like Strats and Telecasters. Fifteen years ago, Jackson developed my own signature model, the 'Dominion Pro', which is a similar hybrid to the one that was modern in the eighties.
Is it only the powerful humbucker tone that appeals to you, or is it also the look and image of these models?
I got my first Les Paul when I was 16. Back then, I was an ardent fan of Randy Rhoads and Jimmy Page, but I also liked Jimi Hendrix and Stevie Ray Vaughan. What I mean by that: I was into strong characters and a significant sound that only really great guitarists have. Each of them has or had their very own, unmistakable tone. But of course my tastes change from time to time.
I discovered Thrash Metal very early on, I was into Slayer, Metallica, Megadeth and chose my guitars accordingly. Still, my love for Les Paul has never been lost. At the moment I'm looking for the highest quality copy possible. In general, the following applies to me: the more I learn about guitars over time, the more precisely I know what the perfect instrument looks like for me.
In fact?
The feel of the game is decisive. When I pick up a guitar, the neck in particular has to feel comfortable. I don't care about technical details like the scale length, bridge, electrics, as long as the neck convinces me. I prefer rosewood and ebony fingerboards, but there really isn't a set formula by which to judge the quality of a guitar. Whether I like an instrument or not is determined solely by the feel of the instrument. A guitar has to respond to what I offer with my fingers and do what I expect it to do.
Sometimes I get new, outrageously expensive models to test, but they sound stiff and don't have a character of their own. Every now and then, however, I also discover some inexpensive standard off-the-shelf specimen and immediately feel that everything is right here. In any case, it is one of those phenomena that are difficult to explain that you can place three guitars from exactly the same series and almost exactly the same date of manufacture next to each other without two of them being even remotely identical. Often only a single specimen from a complete production phase is really good, which can only be explained by the exact weight, the nature of the wood and some unfathomable factors that work together.
Billy Corgan from the Smashing Pumpkins once presented his favorite Strat from the seventies in an interview, a regular model that you could buy in every store at the time. He said, "I don't know why, but there is something very special about this Strat. There are certainly more beautiful models, but only this one sounds and plays so extraordinarily well. "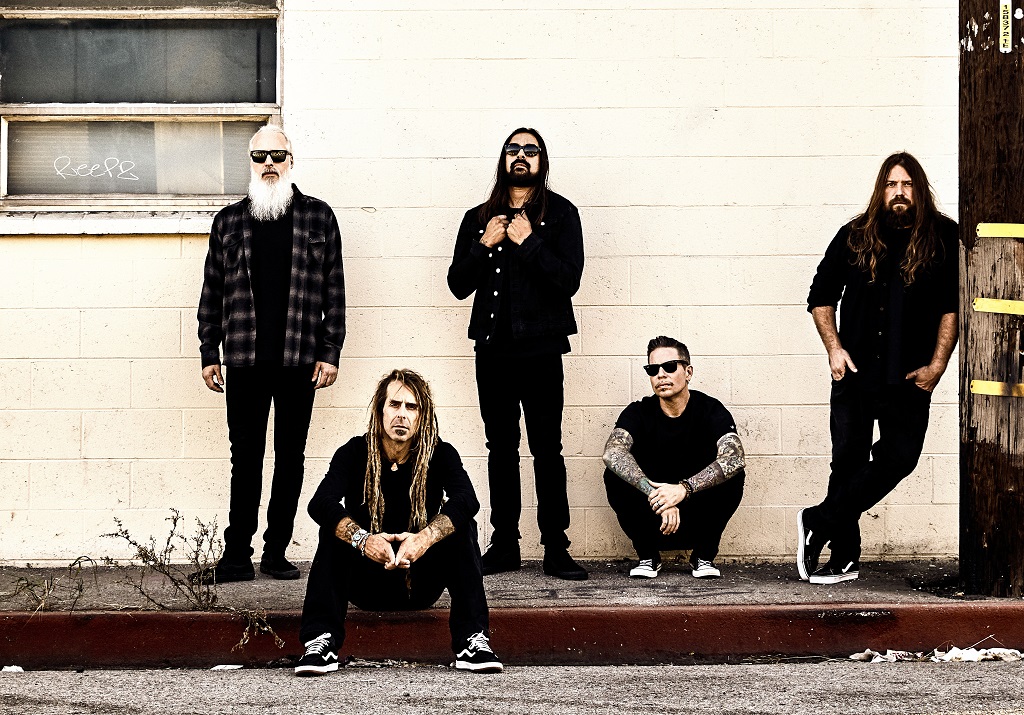 (Image: Nuclear Blast / Travis Shinn)
As a guitarist, are you more rhythmically or melodically oriented?
To be honest, it always depends on what I'm composing for. With Lamb Of God, of course, the emphasis is clearly on rhythmic aspects. With Randy we have a front man who only screams and growls, so the guitars have to be rhythmically aligned. We call our mix of styles 'Groove Metal', which already explains everything. If Randy's vocals were melodic, the guitar parts would have to be adjusted to it. As is the case with my solo stories, in which I work with different singers and play noticeably more melodic in this context.
Can you please explain what equipment you used to record the new Lamb Of God album?
Mainly two tube amps were used, namely a Mesa / Boogie Mark IV with a corresponding 4x12 box, and for some sound variants a Mesa / Boogie Mark V. I played my Jackson Dominion Pro for the solos, and mostly one for the rhythm parts Gibson Les Paul. For the song 'Roots' I also needed a guitar with a tremolo arm, so I asked Jackson to send me a King V. For the effects, I used plug-ins almost without exception.
Was the guitar signal played in dry? Or did you turn on the effects while recording?
As well ... as. There was always a direct DI signal in order to be able to change something in the mix if necessary. But sometimes the effects were also switched on directly to get a more pleasant gaming experience.
How long did it take you to record your parts?
A little less than two weeks. Our goal was to do one song a day. With Willie (Adler, author's note) and me there are two guitarists at Lamb Of God, so you have to carefully coordinate the available studio time. Sometimes I played both rhythm guitars left and right, other times Willie took over both tracks. This saves time and effort, because of course you play more precisely if you can orientate yourself on your own guitar track. Sometimes I would do the entire chorus and Willie would do the verse, or vice versa. When this work was done, we took care of ambient parts, overdubs and minor embellishments.
How are you going to transfer the ultra dynamic production of the new record to your upcoming concerts?
We won't even try. Live and studio are two different things for us. If you want to hear our songs exactly as they do in the studio, you can buy the album. Our aim on stage is to get the best out of this band without working with technical tricks or other aids. In the studio you have endless possibilities to make the sound fatter and more powerful. Such possibilities only exist to a very limited extent on stage. We don't have this claim at all, we are more concerned with creating a certain feeling.
(published in Guitar & Bass 09/2020)
You might be interested in that too