Have you done a good job for Avon?
There is always time for things that you love - Olga HER STORY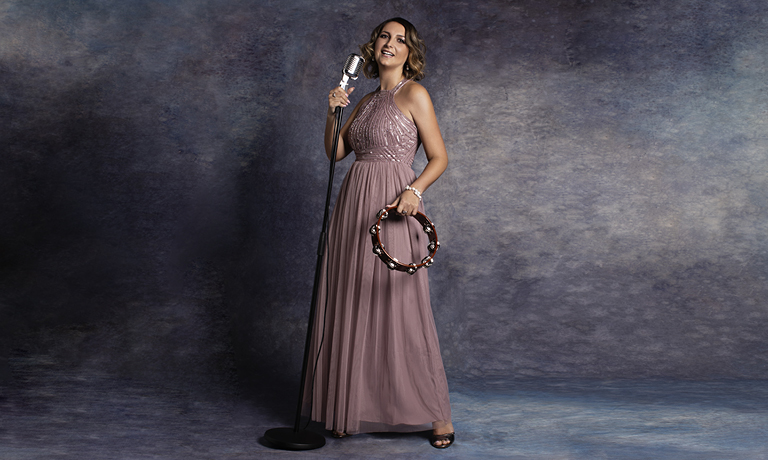 Olga is an absolute power woman. Born in Russia, she has 3 children, is a tax clerk, performs regularly as a singer, has a music school for early childhood education and successfully leads a large team of beauty consultants in Germany. Here she reveals how she brings everything under one roof, even though her day only has 24 hours.
How did you get from Russia to Germany?
Olga: In 2001 I was here to visit my grandma and grandpa. And it was during this time that I met my future husband here. We got married in October 2002 and I moved to Germany.
What is your real job?
Olga: I am a tax clerk by profession.
Do you have children?
Olga: Yes i have three children Three boys.
How was it for you in the early days in Germany?
Olga: It wasn't easy. Since I didn't speak German and didn't get a language course, it was difficult to find work. I've been home for a while. But then I was lucky and found a job at Burger King. I was at the cash register and I gradually learned the language. The language course didn't work until 2 years after I moved to Germany, even though my German was much better at that point than at the beginning. After completing the language course, I was already pregnant with my first child and so I was done again with work.
When my child was 2 years old, I thought about which profession would suit me well and decided to retrain to become a tax clerk. Since I had previously worked as a singer and presenter in Russia, I really wanted to do the same in Germany and founded a music group at the very beginning of my time here. So far, we have been playing at festivals such as weddings, birthday parties, New Years Eve parties.
Did you already know Avon from Russia? How did you get into Avon?
Olga: I still know Avon from Russia. My girlfriend was a consultant. But we were still very young and as a student I rarely bought anything from her. After moving to Germany, I always brought some products with me from Russia when I flew to my parents. And then I found out that one of my friends was also at Avon. And I have ordered the products from her for over 5 years. Unfortunately, I didn't know that I could become an Avon consultant without any obligations and without start-up capital. But since my girlfriend lives a long way from me and I have sometimes waited a long time for my order, I decided to register with Avon myself in order to get the goods quickly and directly to my home. I filled out a form on the Avon website and waited for the call back.
After a few days I was a happy Avon consultant. "I only order for myself" - I thought ... and then I showed the brochure to a few friends. And that's how it started! The prices and quality of the products were quickly convincing, so that I had many customers in a short time. And of course I really liked the opportunity to earn money with it.
Did you start out as a beauty consultant or straight away as a sales leader?
Olga: I started out as an Avon consultant. And almost 1 year later as a sales leader. I also didn't know that Avon had such a great opportunity to become a sales leader. So far, I think it's a shame that I didn't start right away.
You have a small music school, do early musical education for children and work as a singer, you are the mother of 3 children and a sales leader. Quite a lot to do ... How do you manage all of this?
Olga: Yes, I already do a lot ... and not only that. I also organize children's birthdays and other, sometimes very large, parties and also work as an accountant at a large shoe store. How do I do it all? Sometimes I wonder myself ... but I think good organization makes a big difference. If you plan your time right, you can do a lot. Of course things don't always go according to plan, but still.
And of course you should get support. My husband always believes in me and always helps me where I need help.
But what I find most important: it has to be fun!
What do you say to people who say they don't have time to work as a beauty consultant or sales leader?
Olga: "No time" is a very convenient excuse for all of us. We use this very often in our everyday life (at home, with the children, friends, etc.) for the things we don't want to do.
So when someone tells me they don't have time, I try to differentiate. Is it really someone who is actually overwhelmed with, for example, two children or a full-time job, or is it someone who just needs a bit of coaching to organize themselves. And in the second case I show myself as an example. I will then tell my own story and explain how I go about it and that everything can be done if we really want it!
What do you like about being a sales leader?
Olga: I really like working as a sales leader. It's not always easy, but I really enjoy doing it. I get to know a lot of new people. I can pass on my knowledge, support other women and men on their way to success and show them how they can enrich their lives in a positive way.
What I also like about my job as a sales leader is that I have the best boss in the world - a boss who always gives me time off when I need time for my family, who always gives me vouchers to relax when I'm tired always praises when I work hard and well, who always understands and supports me, no matter how good or bad I am: myself!
I'm my own boss - thanks Avon!
How big is your team and what is your day-to-day work like?
Olga: I currently have 270 consultants in my group and 13 sales leaders.
And what is my day-to-day work like? I can't say that exactly. Since I have numerous tasks, I always plan my days of the week about 1 week in advance, depending on all other appointments that I already have. But I'm almost always there for my advisors. This is very important to me.
What does your environment say about your job?
Olga: My family support me. My husband and kids love Avon too.
What are your professional goals?
Olga: I have a good job as a tax clerk. But I want to invest more time in my Avon business and take many more steps forward. This is exactly where I see my future, because here I can work independently and at the same time be there for my family and children.
Direct selling is often associated with "I ring the doorbell at every front door and tell you about products". How is it today
Olga: The world has changed a lot. I can't say luckily or not, it's just like that. And of course we adapt. Just like direct sales. Now we no longer knock on the door, but are at home in the social media world. Nevertheless, we still "knock", just in a different way, after all, people have to become aware of our products. Therefore, presenting the Avon Beauty world on social networks is, so to speak, what used to be knocking on the front door.
Nevertheless, personal contact is important to us. No matter how often and how well we sell products online, it is still easier for us to find the best sales and new customers and new consultants, for example at a sales party, where people meet, can look at and try out the products right away and are simply relaxed and have fun to have.
How do you use Facebook & Instagram for your business?
Olga: I use Facebook all the time for my Avon business - I advertise on my page and in different groups. And I show products or share my successes with others.
Unfortunately, I hardly use Instagram at all. Somehow I'm not an Instagram fan. Maybe I should get to know better.
What do you love about the Avon brand?
Olga: What I love about the Avon brand is that the products are accessible to everyone. Avon shows us that not everything that is good has to be expensive. Every woman wants to be beautiful, regardless of her age, marital status and budget. And Avon makes it happen for everyone !!!
In your opinion, what does a consultant have to bring with him in order to become a good consultant?
Olga: I think enthusiasm. Enthusiasm for Avon products, because only if we are convinced of the products ourselves can we honestly and wholeheartedly recommend them. And of course motivation that moves us again and again.
And what does a sales leader need to be a good sales leader?
Olga: Working with people has to be fun. People are very different and you just have to understand and accept that. Not all of them can do everything that is shown to them the first or second time. Often you need a lot of time before the consultant can work independently. That's why you have to be ready to invest time in the group. Of course, you should always develop further in order to be able to answer all questions from consultants.
What are your favorite products?
Olga: I have a lot of favorite products, such as the ANEW series. For example, I recommend our Defend & Repair moisturizing mask for the night to every customer - I am so enthusiastic about this product !!! I also really like the Mission series, the 5 in 1 mascara and the Luxe volume mascara, the Power Stay Foundation and of course the matching lipstick that lasts 16 hours. I also have a lot of perfumes. And jewelry ... I love Avon jewelry, so great and unique! I can talk endlessly about Avon products 🙂
Is there something you do to compensate for your job or just don't have time for it?
Olga: I think I have enough jobs and hobbies. But it is important for me (I think, for everyone else too) not to forget that we also need relaxation and recreation. And this is where Avon helps me really well. Since I have become much more financially independent with Avon, I can afford more relaxation so that I can regain my strength for the next steps in my Avon business!
Thank you for sharing your story with us and for inspiring other women too!
Are you a beauty lover?
Then turn your passion into a job and start your own business with a company that supports more than 6 million women worldwide! Become a risk-free Avon Beauty Consultant or Sales Leader and love what you do!
From February 6th you will find a new inspiring and touching story here on the blog every Thursday at 12 noon.
---