Tea tree oil

Drug groups

Tea tree oil is an essential oil made from the leaves and branch tips of the Australian tea tree
Melaleuca alternifolia
and related trees. It has antimicrobial and anti-inflammatory properties and is characterized by its broad spectrum of activity against bacteria, fungi, viruses and parasites. Tea tree oil and corresponding preparations can be administered for the external treatment of various infectious and parasitic diseases. Possible adverse effects include local irritation and allergic reactions. Diluted preparations cause fewer side effects than concentrated ones. Tea tree oil should not be ingested because it can lead to poisoning.
synonym: Melaleucae aetheroleumPhEur, Melaleucae alternifoliae aetheroleum, Tea Tree Oil, TTO
Products
The pure tea tree oil is available in pharmacies and drug stores. There are many products on the market containing the essential oil, such as personal care products, lip balm, mouthwashes and toothpastes. As a rule, these are not registered drugs.
Structure and properties
Tea tree oil is obtained by steam distillation from the leaves and branch tips of Melaleuca alternifolia, Melaleuca linariifolia, Melaleuca dissitiflora and / or others Melaleuca-Types of Extracted Essential Oil.
The Australian tea tree Melaleuca alternifolia is a small tree or shrub about three to six meters high that is native to the coast of New South Wales and Queensland in Australia and has long been used by the Aborigines. Like the eucalyptus, it belongs to the myrtle family (Myrtaceae). Tea tree oil has been used since the 1920s.
Tea tree oil is a clear, easily mobile, colorless to pale yellow and volatile liquid with a characteristic, intensely aromatic odor that is practically insoluble in water. The more than one hundred ingredients mainly include isoprenoids and, in particular, cyclic monoterpenes, sesquiterpenes and the corresponding alcohols. Terpinen-4-ol, 1,8-cineol, γ-terpinene and α-terpinene are representatives that occur in high concentrations in oil.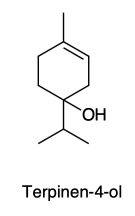 Effects
Tea tree oil has antiseptic, antimicrobial, antioxidant, and anti-inflammatory properties. It is bactericidal against gram-positive and gram-negative pathogens, fungicidal, antiviral and anti-parasitic.
The sensitive pathogens include, for example, streptococci and staphylococci, Pseudomonas aeruginosa, Candida albicans, Dermatophytes, the herpes simplex virus, itch mites, lice and trichomonads. The effects are based, among other things, on a disruption of the structure and integrity of the cell membrane.
application areas
Possible areas of application include (examples):
dosage
According to the instructions for use. The dosage depends on the area of ​​application. For the majority of the indications, dilutions are used, for example with water, alcohol or almond oil. Examples of the preparation can be found in Reichling et al. (2003).
Contraindications
Tea tree oil is contraindicated in case of hypersensitivity. It must not be ingested and should not get in the eyes. We do not have a complete list of precautionary measures.
unwanted effects
Possible adverse effects include local and allergic reactions, including allergic contact dermatitis. Irritation occurs especially when undiluted oil or highly concentrated agents are used.
Tea tree oil is toxic when taken orally and can cause symptoms such as vomiting, diarrhea, confusion, incoordination, hallucinations, and a coma. Fortunately, no deaths have been reported so far.
literature
Carson C.F., Hammer K.A., Riley T.V. Melaleuca alternifolia (Tea Tree) oil: a review of antimicrobial and other medicinal properties. Clin Microbiol Rev, 2006, 19 (1), 50-62 Pubmed
Carson C.F., Riley T.V., Cookson B.D. Efficacy and safety of tea tree oil as a topical antimicrobial agent. J Hosp Infect, 1998, 40 (3), 175-8 Pubmed
de Groot AC, Schmidt E. Tea tree oil: contact allergy and chemical composition. Contact Dermatitis, 2016 Pubmed
European Pharmacopoeia PhEur
Instructions for use
Hammer K.A., Carson C.F., Riley T.V., Nielsen J.B. A review of the toxicity of Melaleuca alternifolia (tea tree) oil. Food Chem Toxicol, 2006, 44 (5), 616-25 Pubmed
Hartford O., Zug K.A. Tea tree oil. Cutis, 2005, 76 (3), 178-80 Pubmed
Pazyar N., Yaghoobi R., Bagherani N., Kazerouni A. A review of applications of tea tree oil in dermatology. Int J Dermatol, 2013, 52 (7), 784-90 Pubmed
Reichling J., Iten F., Saller R. Australian tea tree oil (Melaleuca aetheroleum). Phytotherapy, 2003, 2, 32-39
Safety data sheet (CH)
author
Conflicts of Interest: None / Independent. The author has no relationships with the manufacturers and is not involved in the sale of the products mentioned.
Support PharmaWiki with a donation!
© PharmaWiki 2007-2021 - PharmaWiki provides independent and reliable information about medication and health.
This article was last changed on 7/31/2016.
Imprint and data protection declaration
Show products for this page