How was your first interview off campus
22.06.2020 -
The bachelor's degree in medical technology has been around for a long time at the University of Magdeburg. Nevertheless, it is often difficult for those who are not familiar with the subject or who are interested in studying to imagine what exactly this course is all about. Katharina Bigalk is a student of medical technology herself and shows exciting insights behind the scenes on the YouTube channel "Bachelor Medical Technology". In an interview, the 19-year-old talks about the creation of the new format, the university and her love for medical technology.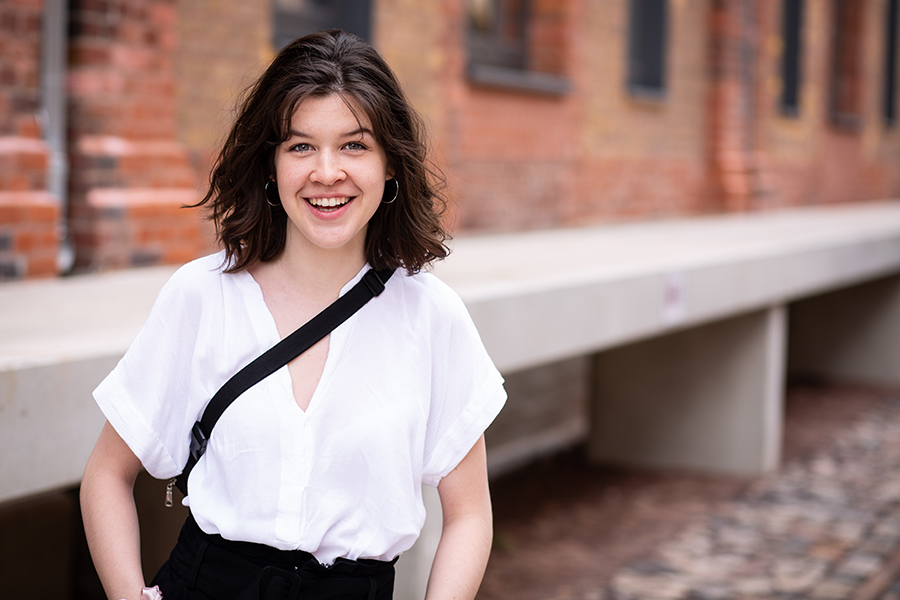 Katharina Bigalk (Photo: Peter Knüppel)

Katharina, you make YouTube videos about your medical technology degree. How did this format come about? What was the idea behind it?
It was the idea of ​​our academic advisor, Peter Knüppel! Due to the Covid-19 crisis, all events, such as the study information days, have now fallen into the water, including our famous ambulance tour on which we drive our course-owned ambulance through Saxony-Anhalt and neighboring federal states to visit schools and the students and to bring students closer to the love of medical technology. He told me it was time to digitize our student advertising and that is exactly what we did. The videos should be timeless and, above all, interesting for everyone, even if they are not considering a medical technology degree.
How was it for you to stand in front of the camera for the first time?
The first shoot was in the MRT, everything was still a bit bumpy and very spontaneous. In fact, it was so bumpy that we had to shoot the video again. The next day we realized that we had forgotten half of it, including the "singing MRI" and that everything did not really fit our concept. I couldn't even remember the name of my interviewee! During my school days I was often on stage, at orchestral, piano, dance and theater performances, but that was something completely different. In any case, after our first failure, we shot everything again, with Peter still only telling me the bare minimum and then just throwing me into the situation like a lab rat. But it gets easier with every spin. Another great help is my friend Pia, who drives me everywhere, brings me food and has utensils ready behind the camera. Greetings go out!
Is there something that you particularly enjoy while shooting?
The things that I experience: the people that I get to know, the things that I also learn! Of course, as a student you get to know the university more and more, but until now I had hardly really looked behind the scenes. Hence the name of our video series "Medical technology behind the scenes"! We want to show people what they could not have experienced in such abundance, for example on the study information days. The real encounter cannot, of course, be replaced and we are really looking forward to holding presentations in our ambulance again, but we are doing our best to bridge this time well.
What do you want viewers to take away from your videos?
That medical technology is the coolest course in the world, that we have very nice people here and that you don't have to be an Einstein to study something scientific. You just have to want it!
At the end you can see the finished video, but not how much work is behind it. What do you think is the most time-consuming part of a video and why?
The cutting! I'm very sorry for Peter that he has to cut out all my stupid slip of the tongue. Sorry Peter! I don't notice much of it myself, but watching all the outtakes is always a highlight.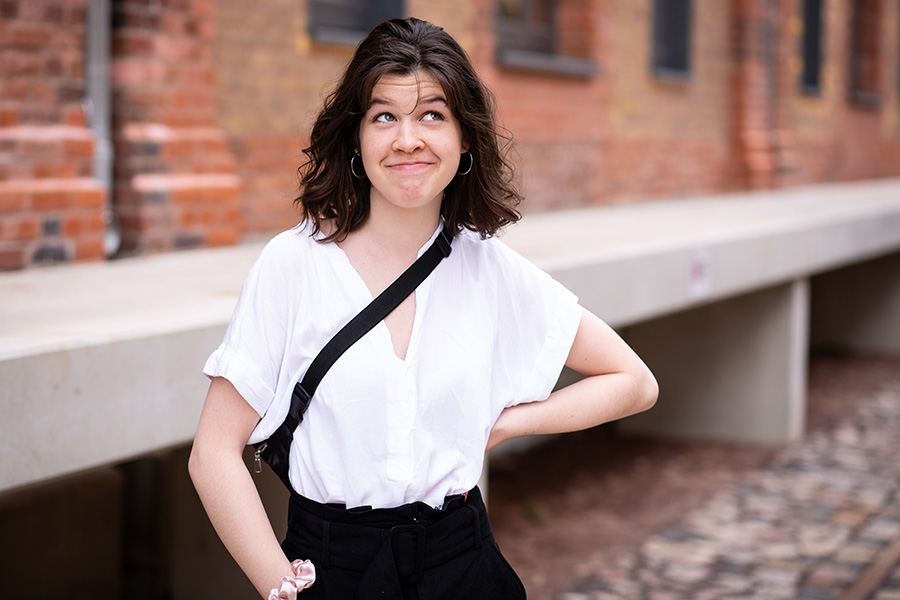 Katharina Bigalk introduces the medical technology course in a YouTube series. (Photo: Peter Knüppel)

You study medical technology yourself. Why?
Because it was my absolute dream! I've always been interested in science and knew from an early age that something would be math, physics, chemistry or computer science for me. I came across medical technology in 10th grade and was immediately enthusiastic. Maybe I've seen too much science fiction, but which child doesn't dream of developing a cyborg, growing neural pathways, developing brain chips and giving paralyzed people the opportunity to move again?
How did you choose the OVGU as your university? What kind of factors played a role?
As a Berliner, of course, I thought that I would stay in the capital to study. I thought wrong! There wasn't a university in Berlin that offered a bachelor's degree in medical technology and I didn't really like the university's study program. That's why I linked all of the locations in Germany and came to the conclusion that Magdeburg is the best solution for me. It's only an hour and a half drive from my home, the city is quite small, so there are fewer things that keep you from studying. The rent is very cheap, there are many housing options directly at the university and supermarkets are not far either. Of course, it was also an advantage that you didn't have to worry about the NC, since medical technology is an NC-free course. The most important thing for me is of course the university itself: the composition of the individual modules, nice lecturers and the connection to the Fraunhofer and Max Plank institutes convinced me at the time.
What do you like best about your student life, on and off campus?
Every day I am grateful for the tutors' patience. It happened so often that I and my fellow students sat for hours with our trainers in the office and got rid of our 300 questions that had built up over the course of the semester. Otherwise, I spend a lot of time with my fellow students, whether cooking, studying or going out to party. And in fact, however "nerdy" that may sound: the subject matter. I don't think anyone likes to study something that doesn't interest them through and through and ultimately I want to understand and apply all the crazy things that I always dreamed of as a child.
The interview was conducted by Margo Blumenthal